Kristin Shoppa started riding horses as a young girl and quickly graduated from playdays to open barrel races.
Early Years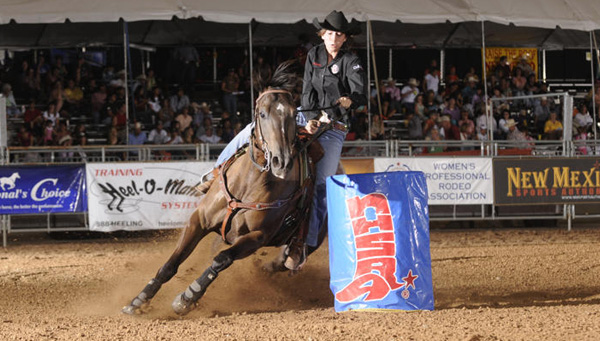 She won her first saddle in 2005, at the ABRA World Finals, and is now dominating Region III of the Texas High School Rodeo Association. In 2009, Kristin was the reserve champion in both barrels and poles for the North Texas High School Rodeo Association as well as being the champion of Region III in the Texas High School Rodeo Association. She used those championships as a spring board to being the champion barrel racer at the Texas High School Rodeo Association in 2009 and qualified for the NHSFR in New Mexico. In 2010, Kristin finished the year as the Reserve Champion Barrel Racer for Region III and qualified for her second straight Texas High School Finals Rodeo. Her last year saw another Region III Championship, placing 2nd in the state of Texas and 31st overall at Nationals.
High School
High school rodeo is not the only place Kristin has been successful- she has also won many championships in the youth division across the state of Texas. 2007 and 2008 saw back-to-back 2D youth championships at the Jurassic Classic. In 2008 and 2009, she made the 1D finals of the prestigious Josey Junior World Barrel Racing Championships as well as being the reserve champion in the AQHA Youth at the world renowned Fort Worth Stock Show and Rodeo in 2010. In addition, Kristin has experienced success in pole bending and cattle events. She ran the fastest time in poles at the 2008 ANHA Shootout Sally Tabor Memorial and qualified in cutting at the 2009 Texas High School Rodeo Association finals.
Final Year of AQHYA
2011 was a truly great year for Kristin in her final year of AQHYA competition. Last year she qualified Boomer but did not end up making the finals in barrel racing. In 2011, fortunes were reversed with Kristin qualifying three horses for the world show and she made it back to the finals on all three. In the preliminary go-round, they only take the top 15 fastest times. Kristin ended up winning the preliminary on Prince, finishing 6th on Bootie and 12th on Boomer out of 70 entries. In the finals, she ran the only 16 (a 16.8) of the entire show and won it on Prince. Bootie finished second in the short-go and Boomer finished 4th. Overall, in the average, Prince won the World Championship, Bootie was Reserve World Champion and Boomer finished 7th! In addition, Kristin took home the Intermediate Championship award as she had never made it back to the finals before and was also given the Reserve Championship Intermediate Award for Bootie's performance.
Pro Rodeo
Kristin graduated from Texas Tech in December of 2015. She is testing out the world of pro rodeo. In the fall of 2016 she did an internship with Kimmi Byler at Byler Performance Horses. Kimmi has mentored many young girls on the rodeo circuit who have gone on to succeed in professional barrel racing. Kristin is happy living on the road and competing. She is experiencing many of the ups and downs we all have when beginning a new career. Make No Assumptions "Watercat" and JW Freeze Fame "Serina" are her main mounts right now. Watercat was trained by Ryann Pedone and Serina by Joy Wargo. In 2017 Kristin would like to qualify for the Texas Circuit Finals and also be in the top 50 in the world standings.
In 2018 Kristin added JW Miz Guyded to her trailer. Tres was trained by Ashley Schafer. With Serina and Tres, Kristin teamed up with Deb Gulley on the road in March. After 100's of miles, lots of rodeos and lots of back and forth between the US and Canada, Kristin and her horses decided to take a break in September. Kristin Weaver Brown has been doing a great job of keeping Serina and Tres ready to go. And Ryann Pedone has kept Watercat going. 2019 has been a lot different for Kristin. She worked for a few months at Nordstrom and is currently in Ecuador learning international business and supply chain at Provefrut, one of the worlds largest broccoli farms. This fall Kristin plans on competing in the Texas Rodeos and take some graduate classes at TCU.